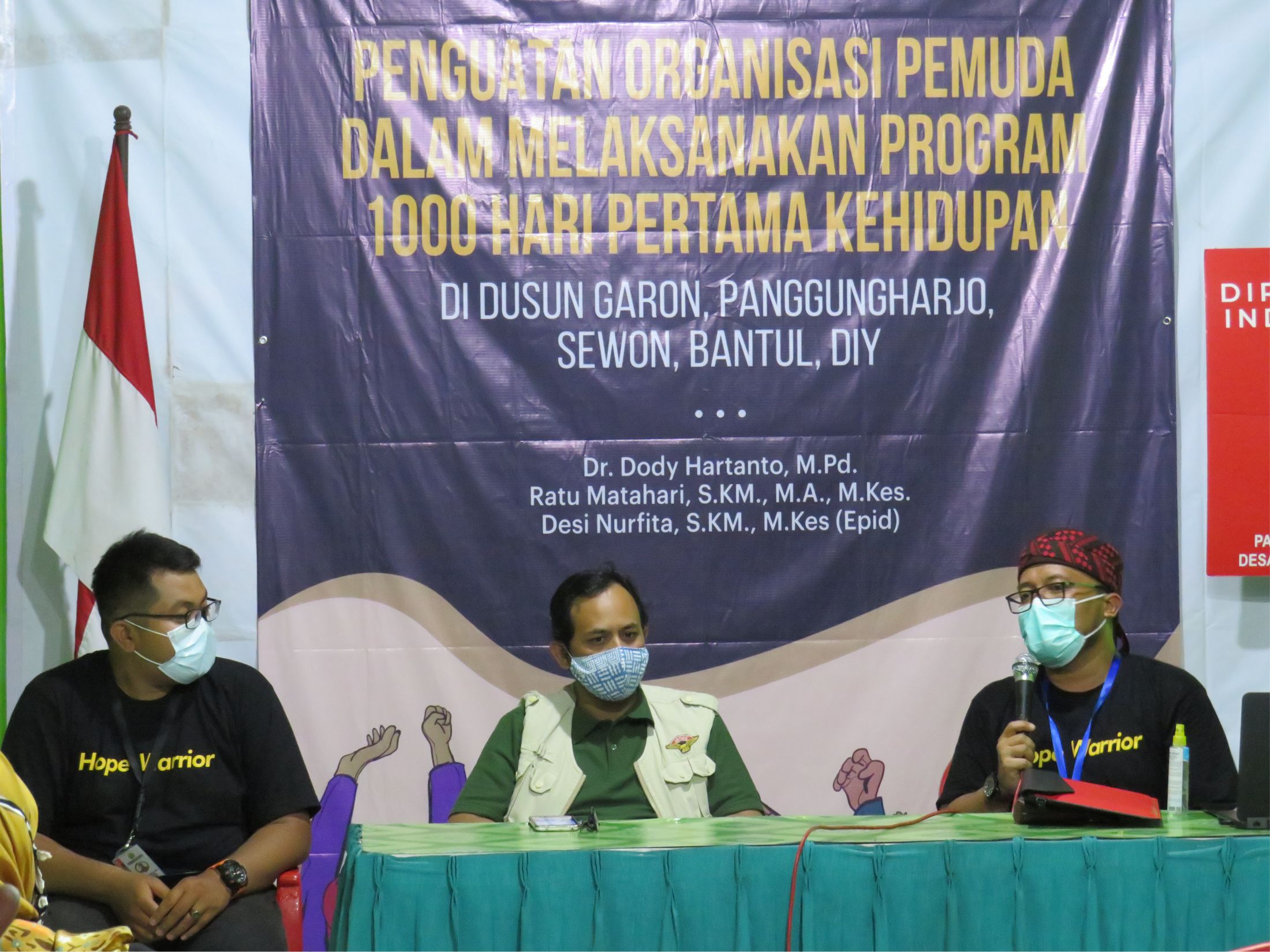 Stunting conditions can be prevented by adopting a healthy lifestyle in the first 1000 days of life (HPK). This was socialized by the Community Service Team (PKM) from the Teaching and Education Faculty (FKIP) and the Faculty of Public Health (FKM) supported by the Ahmad Dahlan University (UAD) Yogyakarta Institute for Research and Community Service (LPPM), in a nutritionally tough youth workshop for preventing stunting of adolescents and assistants of Youth Family Development (BKR) Padukuhan Garon, Panggungharjo Village, Bantul, Saturday (14/11) and Sunday (15/11).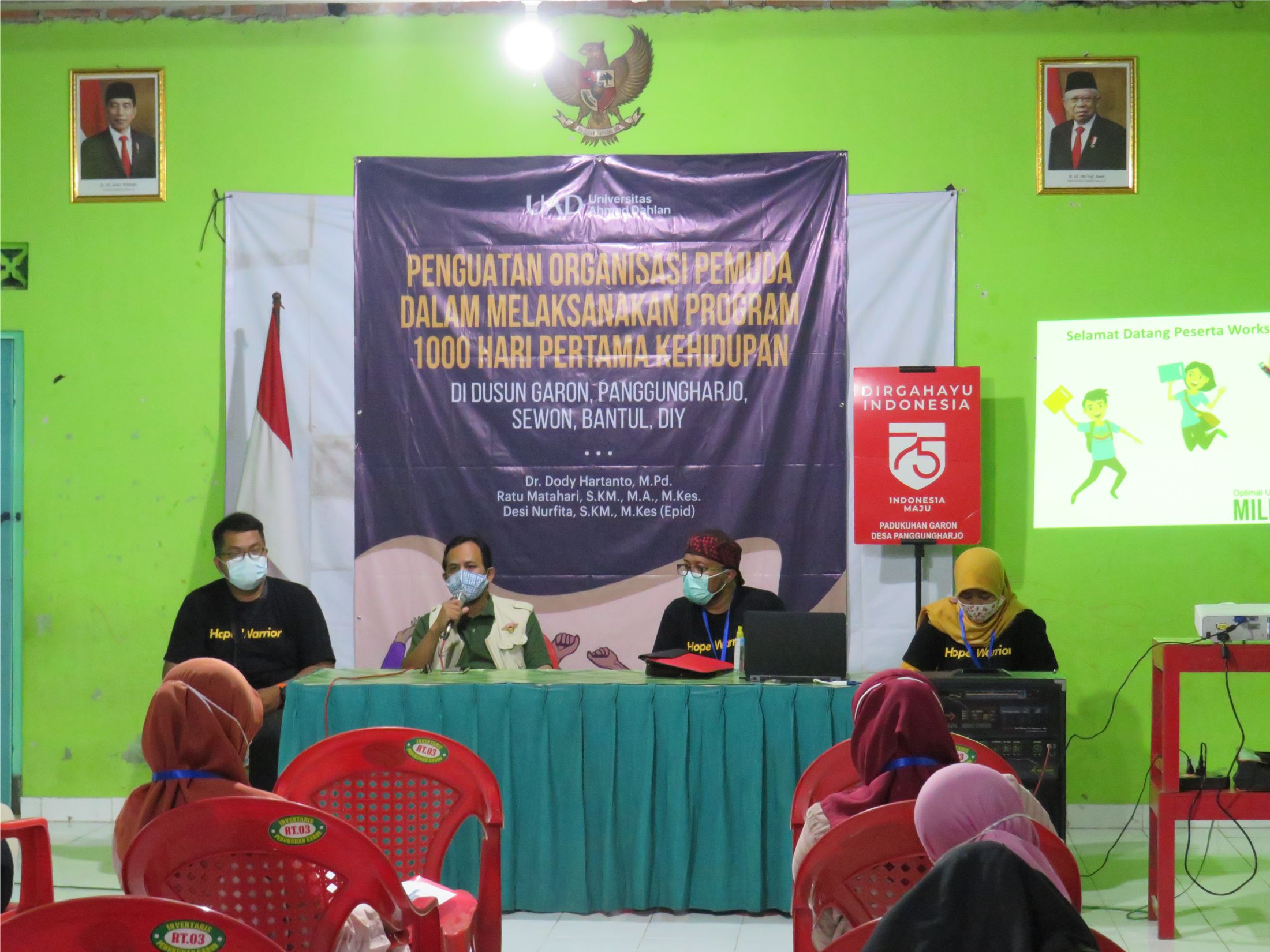 The team is chaired by Dr. Dody Hartanto, M.Pd, with Ratu Matahari, S.KM., M.A., M.Kes, and Desi Nurfita, S.KM., M.Kes (Epid).
Dody said, this workshop activity was carried out by providing education related to adolescent reproductive health and the importance of maintaining nutritional intake in preparing for 1000 HPK, nutritional problems and diseases in adolescents, and the challenges of being a strong millennial generation.
"Participants are invited to analyze problems with a case study approach, in order to increase the knowledge and skills of adolescents in preparing 1000 HPK," he said.
According to Dody, adolescence is a critical phase in the human life cycle due to changes in the physical, psychological and social environment. So it is necessary to get special attention to maintain the quality of nutritional fulfillment so that quality human resources can be realized.
Meanwhile, Ratu said that adolescents as dynamic individuals and supported by youth institutions have the potential to become a motor of change in adolescent behavior in meeting their good nutritional needs.
"Especially for young women in preparing for pregnancy, childbirth, and childbirth, so as to meet the baby's nutritional needs optimally," he said.
Furthermore, Desi explained, the strong stereotype of our society that being beautiful must be thin has made many teenagers go on a diet without the advice of health workers.
"This raises the risk of anemia, lack of energy synchronization (KEK), and overweight, to other diseases such as Diabetes and Coronary Heart Disease (CHD)," he explained.
Head of Padukuhan Garon Rosada hopes that this activity can be the first step to work together to strengthen the role of youth in preparing for 1000 HPK.
"The results can be felt in the long term towards improving the quality of a nation's civilization. In the future it can be followed up with similar activities with different targets, "he explained.
He added, the prevalence of stunting or stunting rates according to height and age in DIY is 14.36. This is based on the DIY health profile in 2016. This figure fell to 13.86 in 2017.
However, the prevalence of stunting or stunting in the province of Yogyakarta is still quite high when compared to the 2013 Riskesdas for 8.2 percent.
It is said that one of the districts in DIY which is the priority district or city for stunting intervention is Bantul. (Subiyantoro)
https://bk.uad.ac.id/wp-content/uploads/Untitled-1-3.jpg
1650
2200
bk uad
https://bk.uad.ac.id/wp-content/uploads/logo-BK-UAD-EN.png
bk uad
2021-04-08 14:36:52
2021-04-08 14:36:52
Community Service: Dusun Garon, Panggungharjo, Sewon, Bantul, D.I. Yogyakarta